Snook and Sons Realty
Your complete real estate source for northeast Wyoming!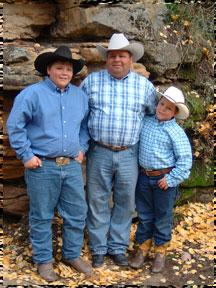 Hello! Thanks for visiting. We are here to offer you personal, one-on-one help with what some say is the biggest decision you will make in your life. If you have any questions, please don't hesitate to call us!
My name is Clint Snook and I have been in the Real Estate business since 1994, my specialties are Ranches, Land and Commercial, Recreation, and homes. I am a Wyoming and a Crook County native, I live on the family Ranch Northwest of Hulett Wyoming near the Devils Tower. Our office is located in the great western town of Hulett. Home of the Devils Tower our nations first National Monument which receives approximately 500,000 visitors a year. We also have a jet airport and a new 18 hole golf course that is a must see. Raved about by all who have played the course. I have a wife Chanda and two boys Austin(15) and Taylor (12) we call him Bug. We all enjoy Wyoming and Ranch living. If you are looking for a great community to raise your children or to retire give us a call we can help you with your needs. We look forward to hearing from you. Until then Take Care and enjoy our website and look at it from time to time we will be updating regularly. From The Snook Family